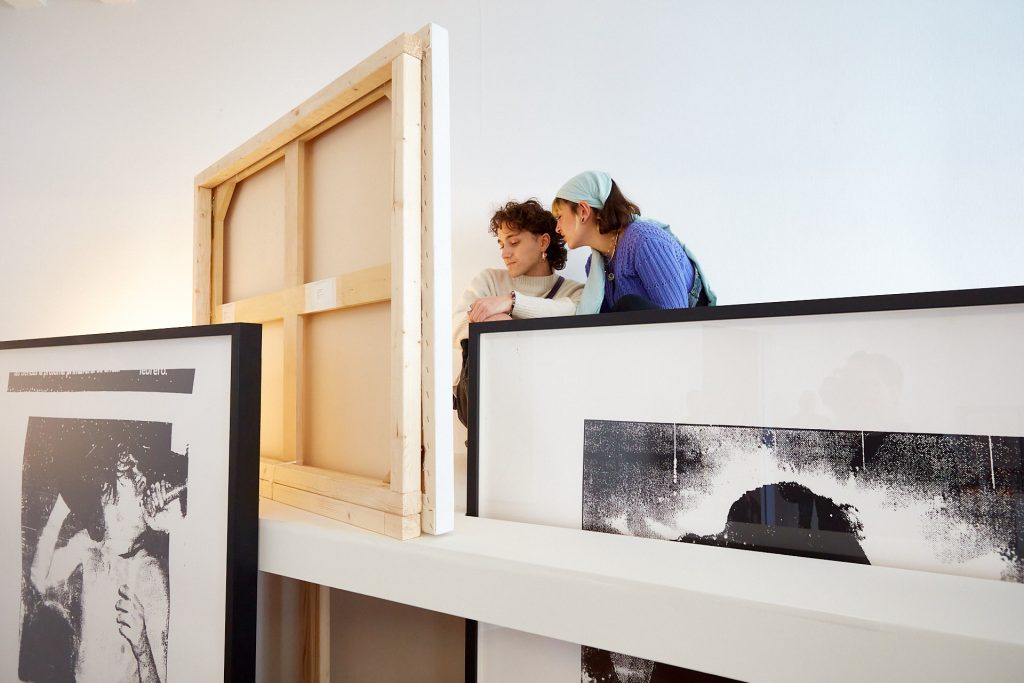 Touching with your eyes,
seeing with your hands
The exhibition Táctica Sintáctica is curated by Mariano Mayer, in collaboration with artist Diego Bianchi, whose work is shown in the exhibition. Táctica Sintáctica goes against museum rules to give the body space. The artworks are scattered throughout the spaces, some partially hidden, others can only be viewed if you are willing to crouch, climb or kneel. Diego Bianchi takes every opportunity to awaken, surprise and touch visitors.
For this exhibition, he and poet and curator Mariano Mayer transform a selection of artworks from the Museo CA2M Collection and the ARCO Foundation Collection (Spain). The selection includes works by David Hockney, Julia Spínola, Dan Flavin, Dora García, Jimmie Durham, Günther Förg, Zoe Leonard, Bruce Talamon, Joachim Koester and many others. Combined with Bianchi's work, it fits into a new strategy (táctica) of letting go (sintáctica). By placing the works in the collection in a new framework, they also disrupt the identity and sensuality of the bodies around them. In this way, Táctica Sintáctica incites movement and play and generates infinite new perspectives. The radical question is: What kind of movement and identities are hidden and reflected in art exhibitions? And what does the body itself want?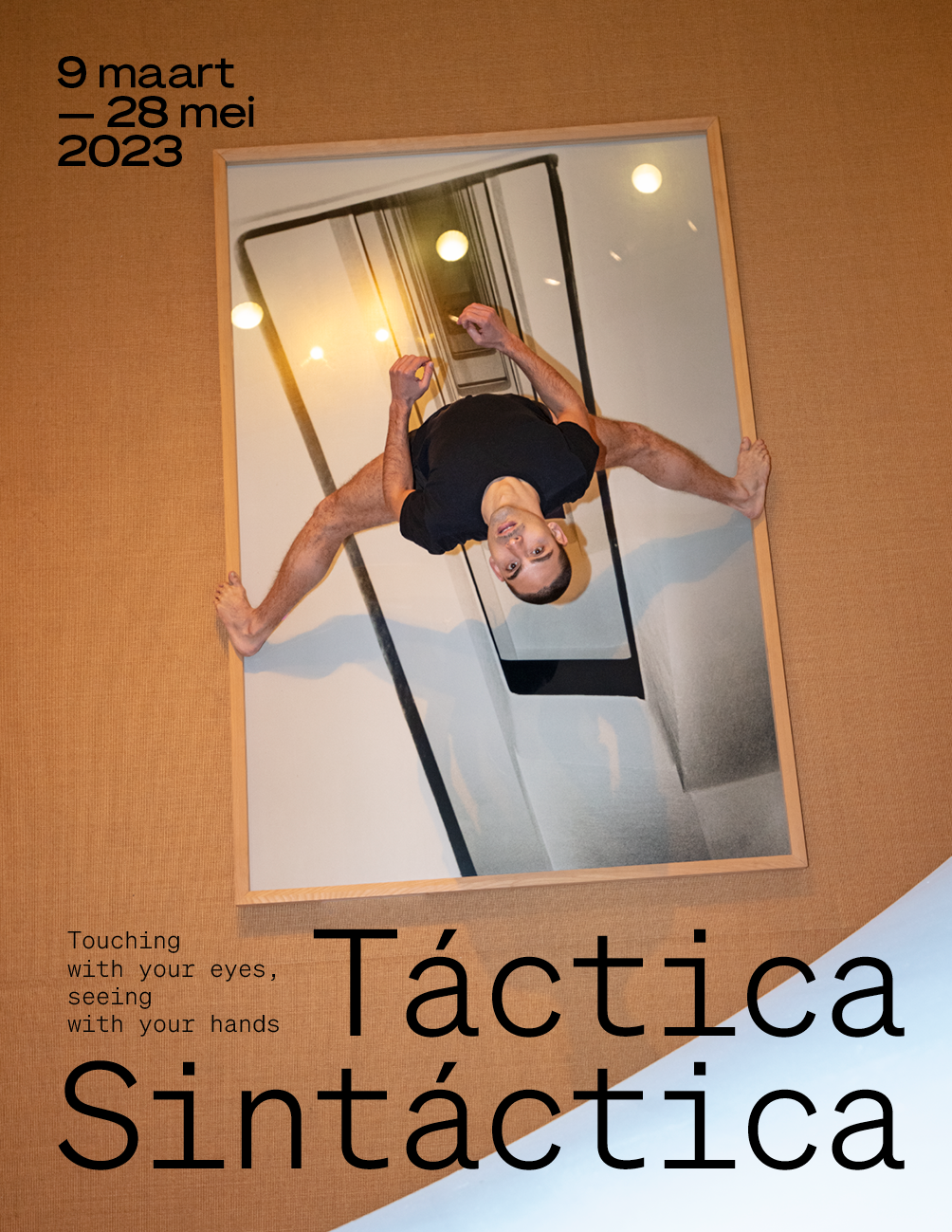 'Táctica Sintáctica is full of good ideas. Bianchi brings physicality back into the museum by requiring the viewer to crawl under wooden scaffolding (and thus literally crawl for the art), wriggle along walls to see video work or crane their head to get a good look at works hung lopsidedly."
– NRC
"It all started as a game. We wanted to build a complete landscape of works in a museum. A landscape consisting of heterodox elements, stacked high on top of each other, that serve as a critique of the clinical and neutral way artworks are displayed. We wanted to take the time to imagine that works were again things of the world. In doing so, we began to see them as circulating particles, exposed to light or danger. Through the sensitive connection we restore with objects, we can rediscover our tangibility and memory. To prevent our tactile emotions from becoming a blur engulfing the works, we had to use materials that were unfinished, soft, warm, cold, hard, rough. The materials caress, massage, extend; find other forms in repetition, in touch and feel, in gestures. Sculptural objects embody a moment in time; they teach us to think with our hands. With our eyes we discover the distance that exists between our bodies and what we want to touch. They have nothing to do with our visual pleasure; they only measure how far or close is that which we want to touch."
– Diego Bianchi and Mariano Mayer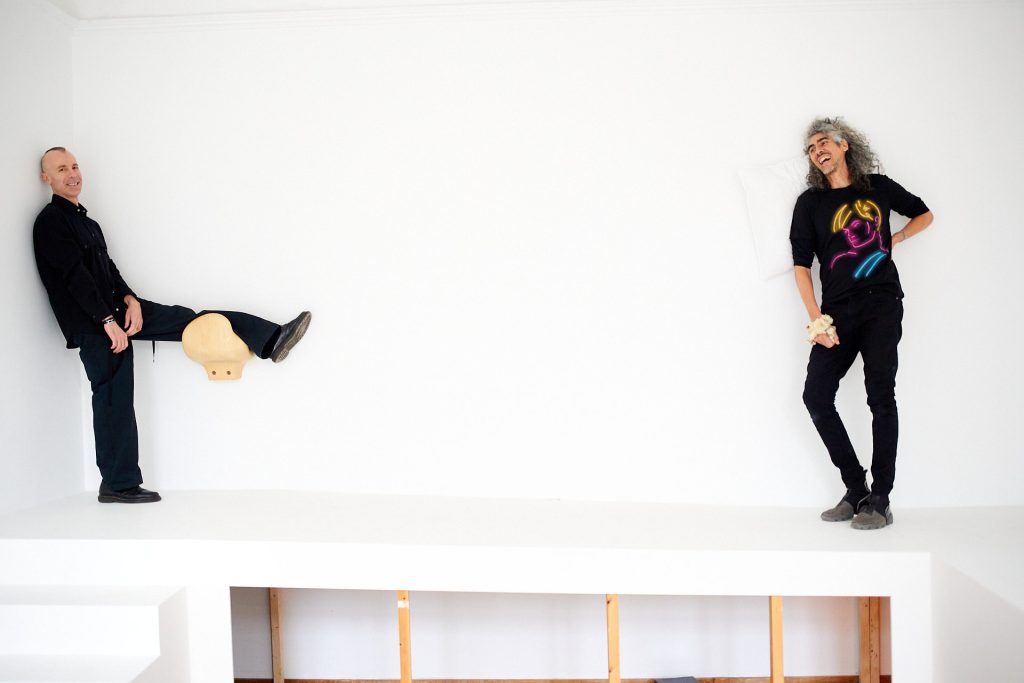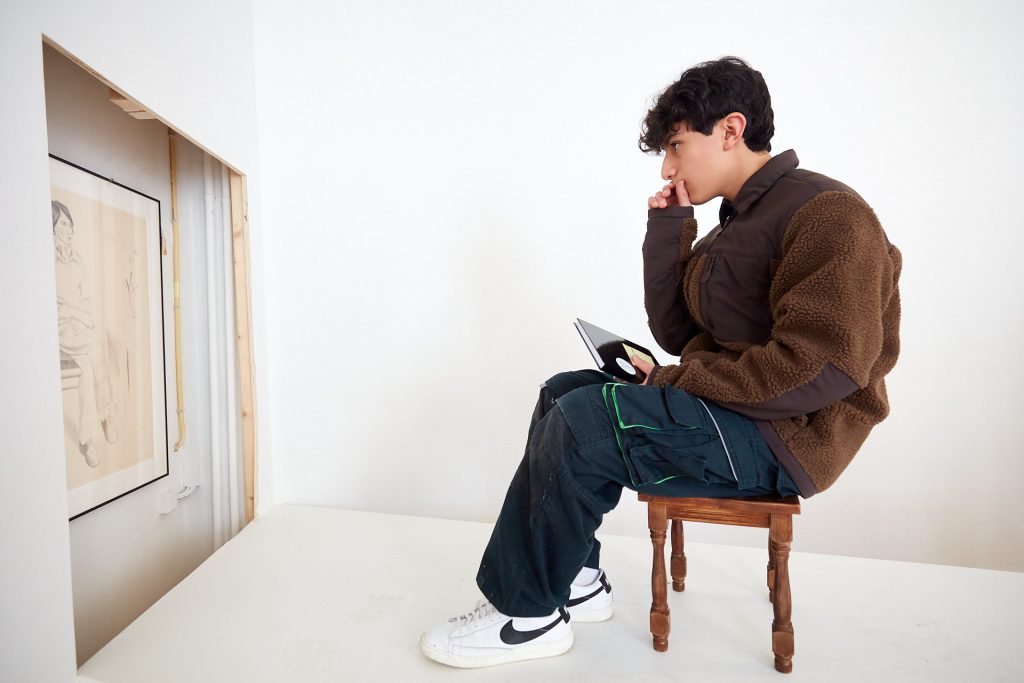 Táctica Sintáctica is the second in a series of re-makes that Marres began in 2020 with the exhibition Codex Subpartum. Táctica Sintáctica began in 2022 as part of the series Dubbing the Voice at the Museo Centro de Arte Dos de Mayo in Madrid. In the series, artists are invited to give a new perspective on the collection. This opens up the collections to a new discourse, as it were. The reframing and redesign of this exhibition at Marres marked the second phase of this discourse. Indeed, here the intervention did not offer the perspective of an entrenched collection, but rather showed a group exhibition that functioned independently of institutional ties.
Artist & curator
Diego Bianchi (Buenos Aires Argentina, 1969) studied graphic design at the University of Buenos Aires and has worked as a visual artist and teacher since 2003. Among his most notable exhibits include INFLATION, Liverpool Biennial (2021); Sauvetage Sauvage and Softrealism,
Galerie Jocelyn Wolff (Paris, 2020 & 2019); Museo Abandonado: Barrio Kronfus, Bienal Sur 2019 (Argentina); The Enchanting Now, Museo de Arte Moderno de Buenos Aires (2017); WasteAfterWaste, Perez Art Museum (Miami, 2015); Suspensión de la incredulidad, Museo de Arte Latinoamericano de Buenos Aires (2015); Under the Si, in collaboration with Luis Garay (Matadero, Madrid, 2018, Wienner Festwochen, Austria and Bienal de Performance, Buenos Aires, 2015); El trabajo en Exhibición, Galerie Jocelyn Wolff (Paris, 2015); Into the wild meaning, Visual Arts Center (Austin, 2013). His work is also been seen at the 13th Istanbul Biennial of Istanbul (2013); 11th Lyon Biennial (2011) and the 10th Havana Biennial (2009).

Mariano Mayer (Buenos Aires, Argentina, 1971) is a poet and independent curator who has been living in Madrid since 2002. His most recent curatorial projects include Un lento venir viniendo, Cap I . Colección Oxenford(MAC Niterói, Brasil, 2022); Amplitud de contexto with Manuela Moscoso (ARCOmadrid 2023/2022); Tiempo produce pintura – pintura produce tiempo. Álex Marco (Espai d'Art Contemporani, Riba-Roja, 2022); Azucena Vieites. Playing Across Papers (Sala Alcalá 31, Madrid, 2020); En el ejercicio de las cosas, with Sonia Becce (Plataforma Argentina ARCOmadrid 2017); La música es mi casa: Gastón Pérsico (MALBA, Buenos Aires, 2017); Isla de Ediciones (arteBA, Buenos Aires, 2017/2016) and Plano, peso, punto y medida (Universidad Torcuato Di Tella, Buenos Aires, 2011).
Press about Táctica Sintáctica