The Amazon wilderness, moist, damp, sticky, deafening, breathtaking, is the most invasive form in which a landscape forces itself upon us.
Curators: Luiza Mello en Valentijn Byvanck
Once you're inside, there is no escape. The pressure of the environment is so powerful and hypnotic that it propels people into a dreamstate. The exhibition Dreaming Awake presented a tropical rainforest peeled back in layers. The exhibition was about the experience of touch caused by strong outside forces. Dreaming Awake aimed to bring that experience to the visitors of Marres.
The immersive project was developed by the Brazilian curator Luiza Mello and Marres director Valentijn Byvanck, in collaboration with the artists Dominique Gonzalez-Foerster, Daniel Steegmann Mangrané and Luiz Zerbini.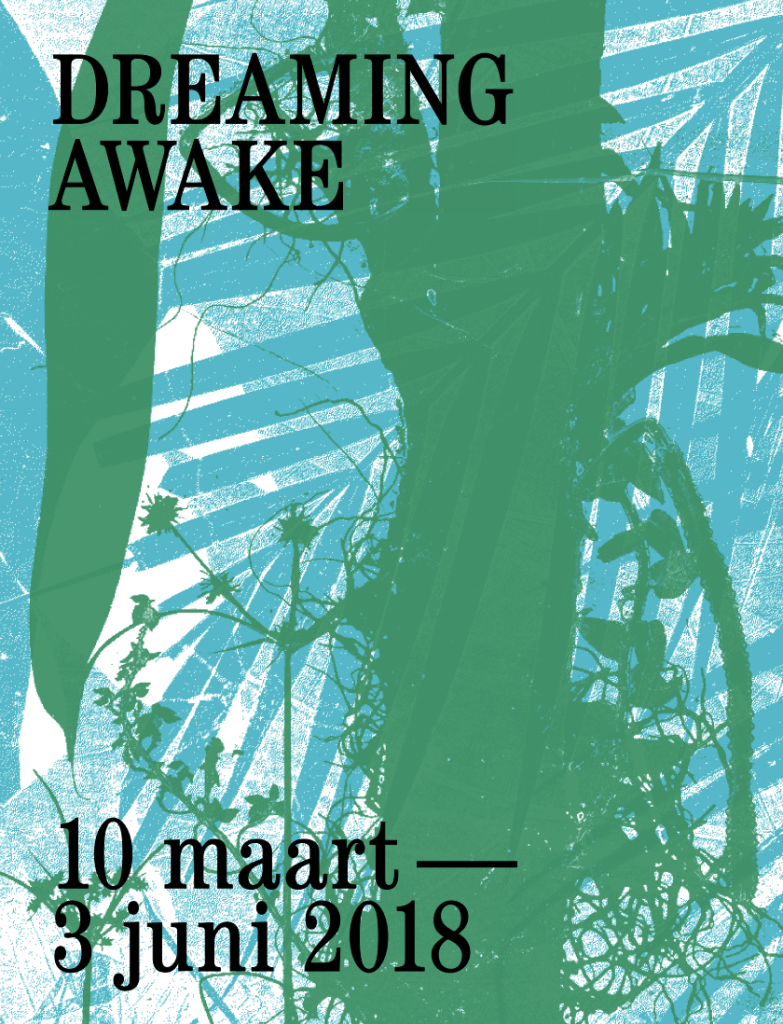 Artists
Luiz Zerbini (São Paulo, 1959) employs a rich and vibrant palette for a diverse range of subjects such as landscapes, urban panoramas and domestic scenes, as well as more obscure or even abstract works. Zerbini has had a series of retrospective exhibitions at Galpão Fortes Vilaça, São Paulo, Brazil (2015); Casa Daros, Rio de Janeiro (2014); Instituto Inhotim, Minas Gerais (2013) and the Museu de Arte Moderna in Rio de Janeiro (2012). He took part in the Biennials of São Paulo (2010; 1987), Mercosul (2001), Havana (2000) and Cuenca (1996). In 2017, Stephen Friedman Gallery showed his work in London.
Through site-specific installations and environments that immerse visitors in light and sound, Dominique Gonzalez-Foerster (Strasbourg, 1965) examines how spaces prompt memories and affect our moods and perceptions. In recent years, Dominique Gonzalez-Foerster had a series of solo exhibitions in, among others, the Pompidou Center, Paris (2015-2016), the Museum of Art, Architecture and Technology in Lisbon (2015), the Museo Reina Sofía in Madrid (2014) and Turbine Hall, Tate Modern, London (2008). She also participated in Skulptur Projekte Münster (2007) and Documenta XI, Kassel (2002).The artist's most recent films are Otello 1887 (2015), Vera and Mr Hyde (2015) and Lola Montez in Berlin (2015).
For many years, Steegmann Mangrané (Barcelona, 1977) has studied the Brazilian jungle through works that are focused on the powerful contrast between human perception and the intense reality offered by the jungle. The artist had recent solo exhibitions at the Múrias Centeno, Lisbon (2015), Esther Schipper, Berlin (2015), Proyectos Monclova, Mexico City (2014), and Mendes Wood, São Paulo, Brazil (2013). He also participated in several Biennales including that of Cuenca, Ecuador (2014) , the Mercosul Biennial, Porto Alegre (2013); and the Bienal de São Paulo, São Paulo (2012).
Publication
Next to the exhibition Dreaming Awake, an eponymous publication was launched, edited by Luiza Mello, João Doria, and Valentijn Byvanck. Dreaming Awake describes the feeling of the rainforest and the effect the clammy, moist atmosphere can have on humans. It incorporates existing texts on the subject, as well as works on the jungle by artists such as Luiz Zerbini.
The publication was among the winners of the Best Dutch Book Designs 2018 and is available at the reception desk of Marres or through our online shop.
"The hypnotic power of the rainforest is evoked in dreamlike, monochrome images – lots of dark and green, against which the works of art from the Marres exhibition sometimes contrast colourfully." – Jury Best Dutch Book Designs 2018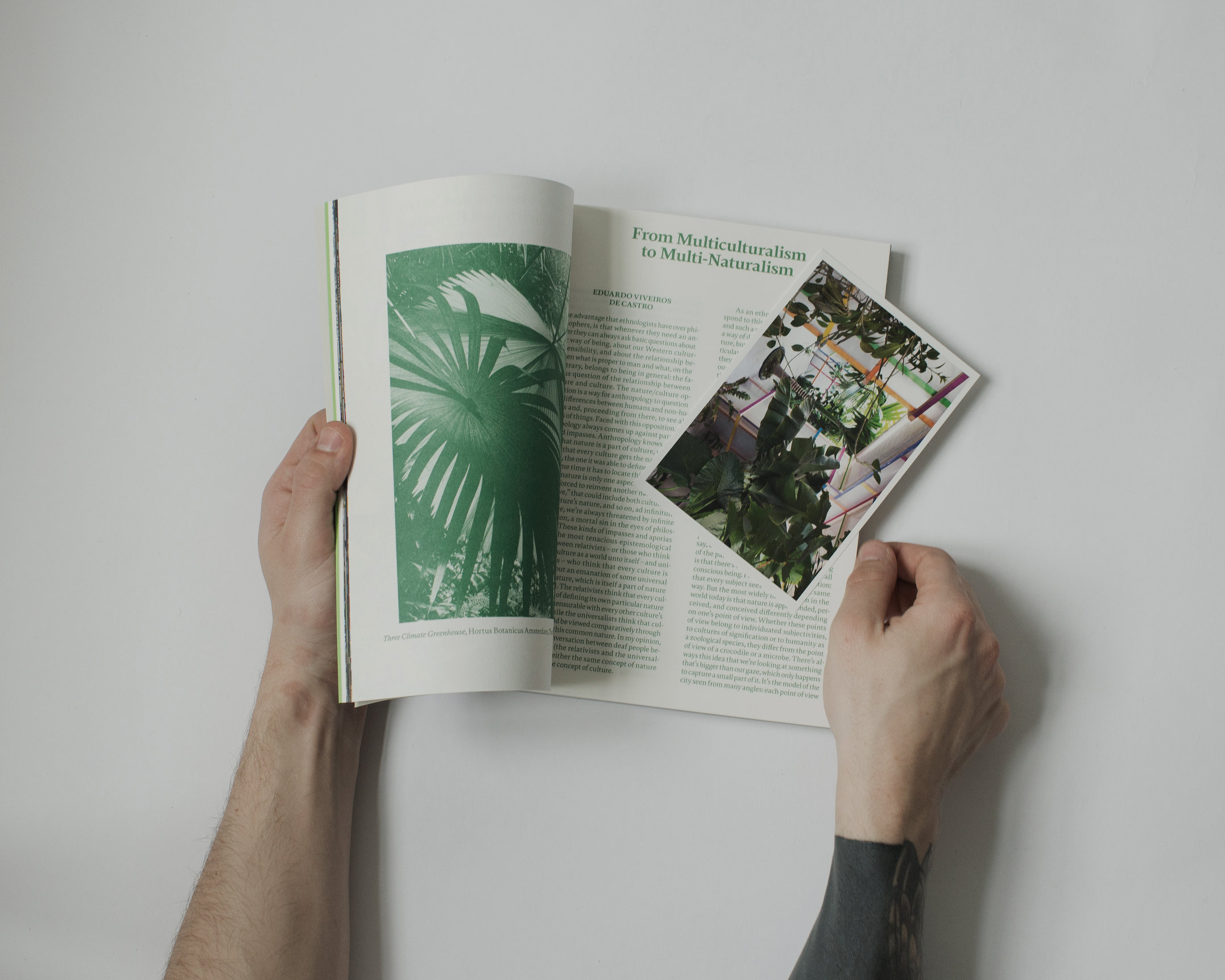 Education
For this exhibition, Marres developed an educational program aimed at nature and cultural experiences for and with young people from asylum seekers' centres, secondary schools and international schools. The participants tried to find an answer to the question "what does my dream world look like? They were helped by artists, dancers and musicians. The final product was offered as teaching material to various schools in Limburg.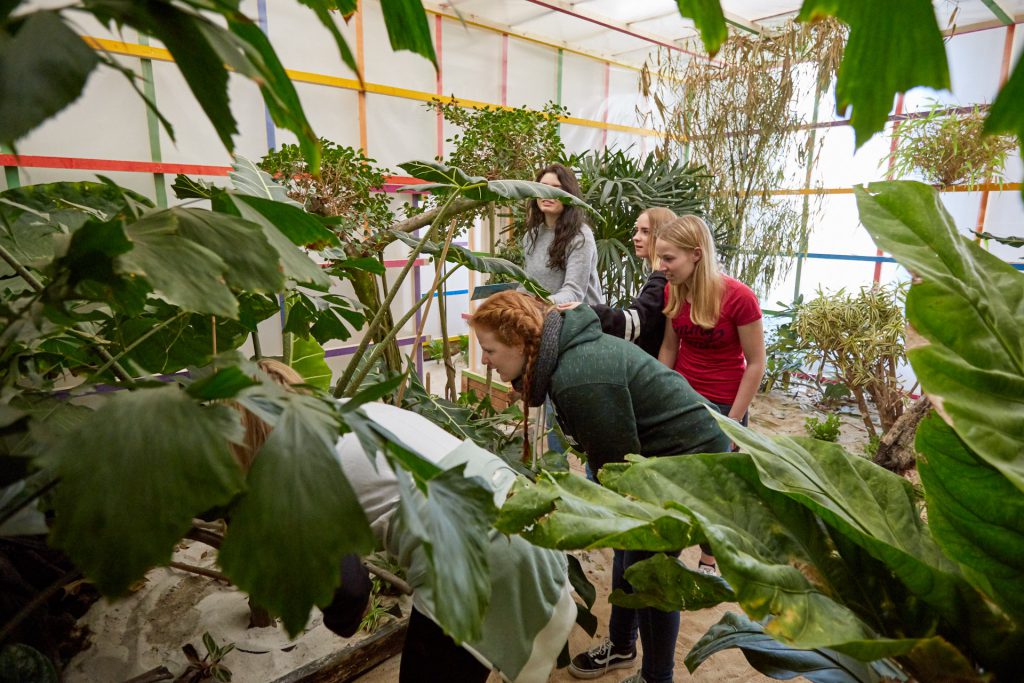 Press about Dreaming Awake