Date:
17 May 2022
Time:
19:00 – 21:00
With:
Anna Harris, Kaisu Koski, Bart Schrier
Location:
De Brandweerkantine
Capucijnenstraat 21, Maastricht
Language:
English
Costs:
€5 (regular), €2.50 (students)
Please note: this workshop will be recorded via photography and film
Today, medical students practice their dissecting, stitching and carving skills on highly advanced materials and protheses. In the past, they had to work with simpler materials. In this context, fruit was both practically and metaphorically essential: oranges were used to learn how to inject and a peach served as a children's skin.
In the workshop Operation Mango you will pick up the scalpel yourself and get started with these materials and techniques. Under the guidance of physician-anthropologist Anna Harris, surgeon Bart Schrier and artist Kaisu Koski, you will gain insight into a series of surgical practices. In turn, by attending closely to the fruit's sensory qualities, we may discover comparative vocabularies that doctors might never have thought of before. A first-aid kit is provided!
Listen to the podcast episode here (or on Apple Podcast).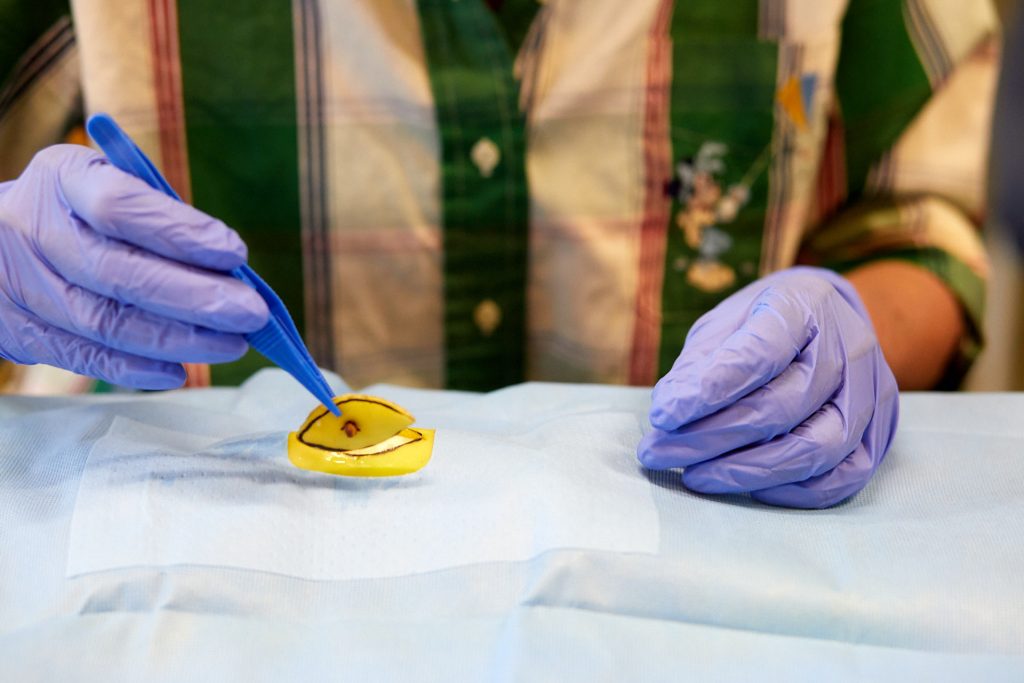 Anna Harris
Anna Harris first worked as a doctor in Australia and the UK before learning anthropology and turning her ethnographic gaze back to the medical profession. Missing the hands-on element of clinical practice in academia, her work endeavors to find creative and practically engaging methods for studying questions of embodiment, learning, materiality and infrastructures of medical practice. She currently works with a great team of anthropologists and historians at Maastricht University on the European Research Council funded project Making Clinical Sense.
Kaisu Koski
Kaisu Koski is a cross-disciplinary artist and humanities scholar with a background in performance and screen-based media. She is an Associate Professor of Art and Design at Sheffield Hallam University. Kaisu's work explores climate crisis, human-nonhuman relationships, and empathy. She has conducted research fellowships in various medical schools and created films for medical curricula. Her work has been exhibited and performed in multiple gallery shows and theaters and received awards in the film festival circuit.
Bart Schrier
Bart Schrier studied medicine in Groningen. After his military service he started training as a urologist at the Isala clinics in Zwolle and the Radboud Umc in Nijmegen and studied surgery for two years at the Canisius Wilhelmina Hospital in Nijmegen. After graduating, he went to work at the Jeroen Bosch Hospital in 's-Hertogenbosch. He holds a PhD in bladder cancer and has been named best urologist in the Netherlands several times. He now provides national and international operation training and guides medical specialists during robot operations.