Date:
27 September 2022
Time:
19:00 – 21:00
With:
Davide Tidoni & Simone Evangelisti
Location:
De Brandweerkantine
Capucijnenstraat 21 Maastricht
Language:
English
Max participants:
12
Costs:
€5 (regular), €2.50 (students)
During this workshop we will make photos and video recordings.
Since 2009, Davide Tidoni has created listening scores exploring the active role of the listener and their agency to act within an acoustic field. Starting from the subjective experience of acoustic phenomena, such as filtering and reflection, the scores highlight the interaction among the physical nature of sound, its behavior in space, and the modulation of sound through body and movement.
In this workshop Davide Tidoni, together with dancer Simone Evangelisti, will invite participants to explore and investigate their own capacity to touch, filter, absorb, and block sound when realizing the performative potential of the scores. Through guided sequences and improvisational moments, participants will experiment in new ways to approach sound and listening as resources for developing movement and body awareness.
This event is in partnership with iii.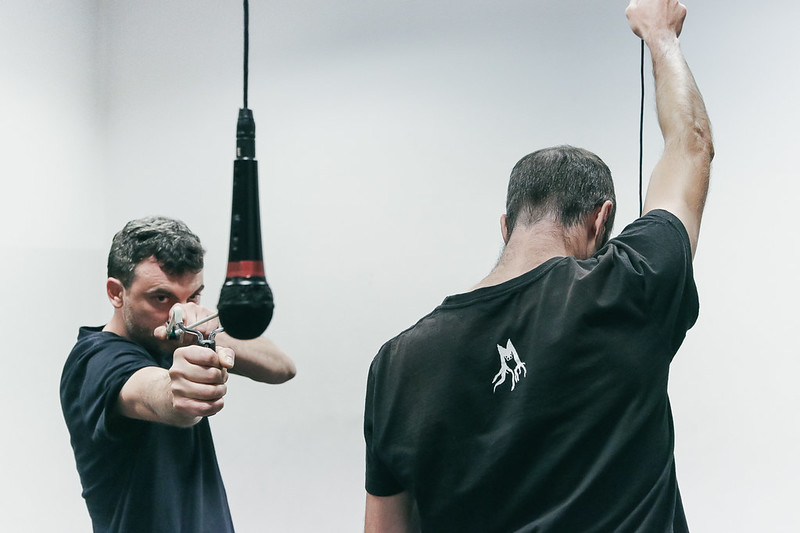 Davide Tidoni
Davide Tidoni is an artist working from the boundaries of physical, perceptual, and affective dimensions of sound. His work addresses questions regarding interactions with acoustic space, intersubjectivity, and impermanence. His practice also includes interests in the use of sound in counter-cultures and social contexts of struggle. In 2018 he published The Sound of Normalisation, a field research on the ultras group Brescia 1911.
Simone Evangelisti
Simone Evangelisti studied theatre and dance with Raffaella Giordano and the Fondazione Pontedera Teatro. He has performed with different companies (Dom, Strasse, Teatro delle Briciole) often bridging diverse fields and formats: from shows intended for children to dance theatre, in-situ performances, and urban interventions. He's also politically active and documents his experiences in this arena in graphic stories published in fanzines and magazines.