In the weekend of 10 and 11 June, the second edition of ROOMS Performance Festival took place.
In ROOMS young makers and established talents take you on an expedition to unexplored worlds with dazzling dance pieces, mysterious theater, experimental jazz and dreamy films.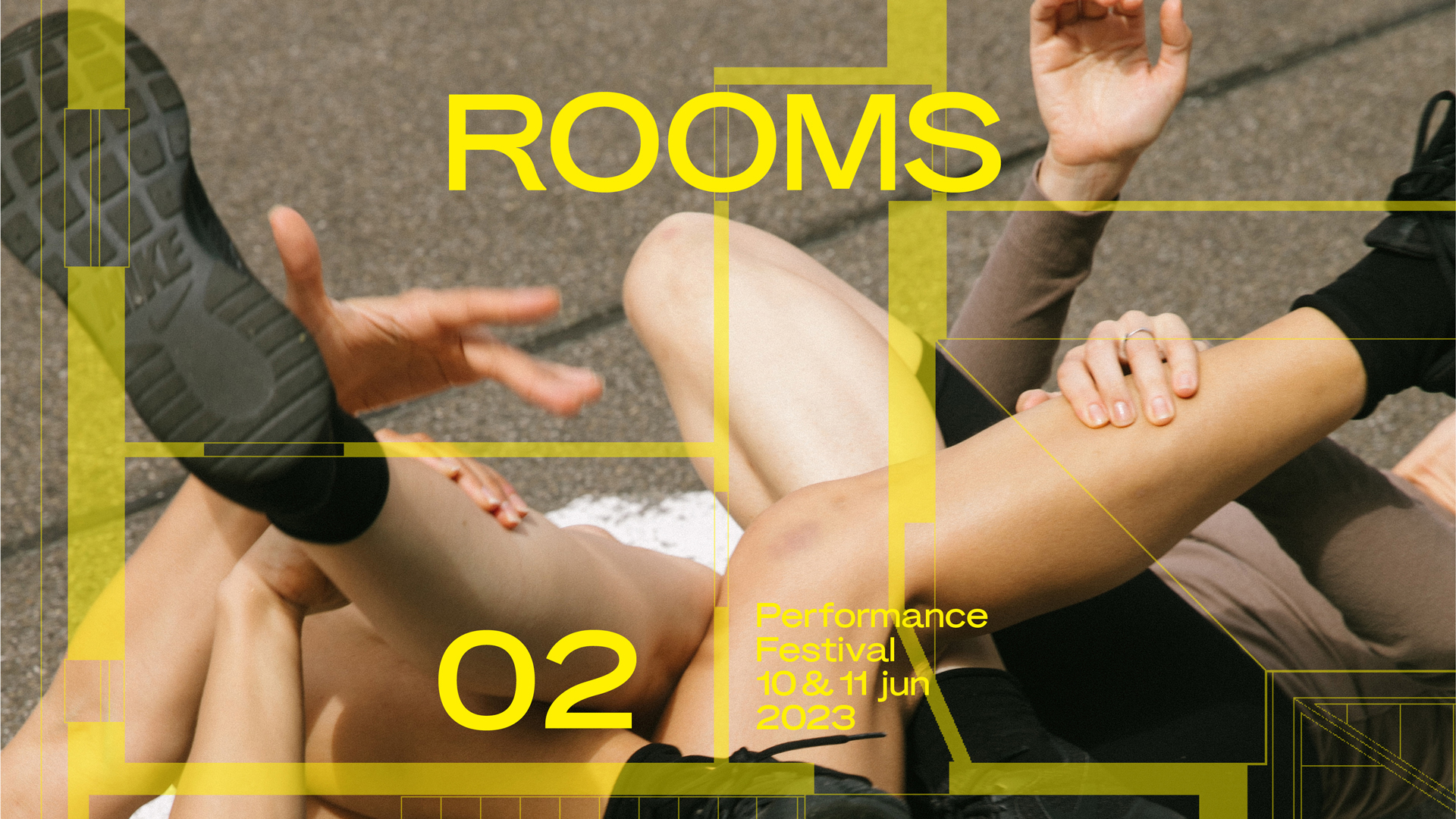 Biographies
Led by Amsterdam-based choreographer and performer Miri Lee (South Korea, 1975), Collectief Imprography is an independent artist platform focusing on advanced levels of impromptu performance forms. Since 2018, Lee has been organizing the Co-Session Series, fostering a close collaborative scheme among its professional dancers and musicians from various artistic backgrounds.
Judith Engelen (Belgium, 1995) makes physical and associative performances in which she combines fast technology with slow literature. In addition, her work always has a strong connection to psychoanalysis and biology. Abel Enklaar (the Netherlands, 1995) is an interdisciplinary artist who explores the intersection of technology, identity and environment through performances and installations. Their work explores the impact of technology on our understanding of ourselves and the world around us. Enklaar has presented their work at festivals and venues around the world.
Nina Marte Wilson (1998, the Netherlands) graduated as a performer and visual artist from the Institute of Performing Arts, Maastricht in 2022. During her studies, Wilson started to replace the stage with other landscapes and herself with objects and elements. Starting from a theatrical background she moves towards other media, including film, photography, animation, installation and food. In a playful and inventive way, Wilson creates a ritual in which the spectator is offered the silence and space to become absorbed in the moment. Everything shown, is born out of situations or landscapes she puts herself in. Working intuitively, she grounds, get bogged down, collects and listens, overwhelming and sincere, with the softest touch.
With a signature of rooted groove in combination with well-tempered outbursts, drummer Sun-Mi Hong (South Korea, 1990) has placed herself strongly in the Dutch jazz scene. By approaching the moment in a meditative fashion, Hong achieves the ability to bring something entirely original to the band stand. Known for his distinct trumpet tone, out-of-the-box creativity and diversity of projects, Alistair Payne (Scotland, 1995) is a prominent name amongst the new wave of Dutch jazz.
The work of Arno Schuitemaker (the Netherlands, 1976) arises from existential questions and is an ongoing quest for the mystery of our bodies and ourselves. Hyperphysical and immersive, they receive praise for the depth created at the crossroads of the intimate and the universal. In his performances, sensory experience is prioritized over narrative. Schuitemaker has shown his work at renowned venues and contemporary performing arts festivals in over 25 countries.
Alesya Dobysh (Russia, 1989) and Marina Pravkina (Russia, 1986) met 15 years ago being a part of the Moscow urban dance scene. During that period they mastered footwork oriented club styles, such as House dance and UK Jazz Fusion, self-studied fundamentals of contemporary dance and actively participated in a "battle" dance scene. In developing their choreographic material, they draw inspiration from the abstraction and deconstruction of footwork patterns. To explore their interdependence, performers construct rules and play obscure games, finding new ways to complement each other's physicality and its limitations.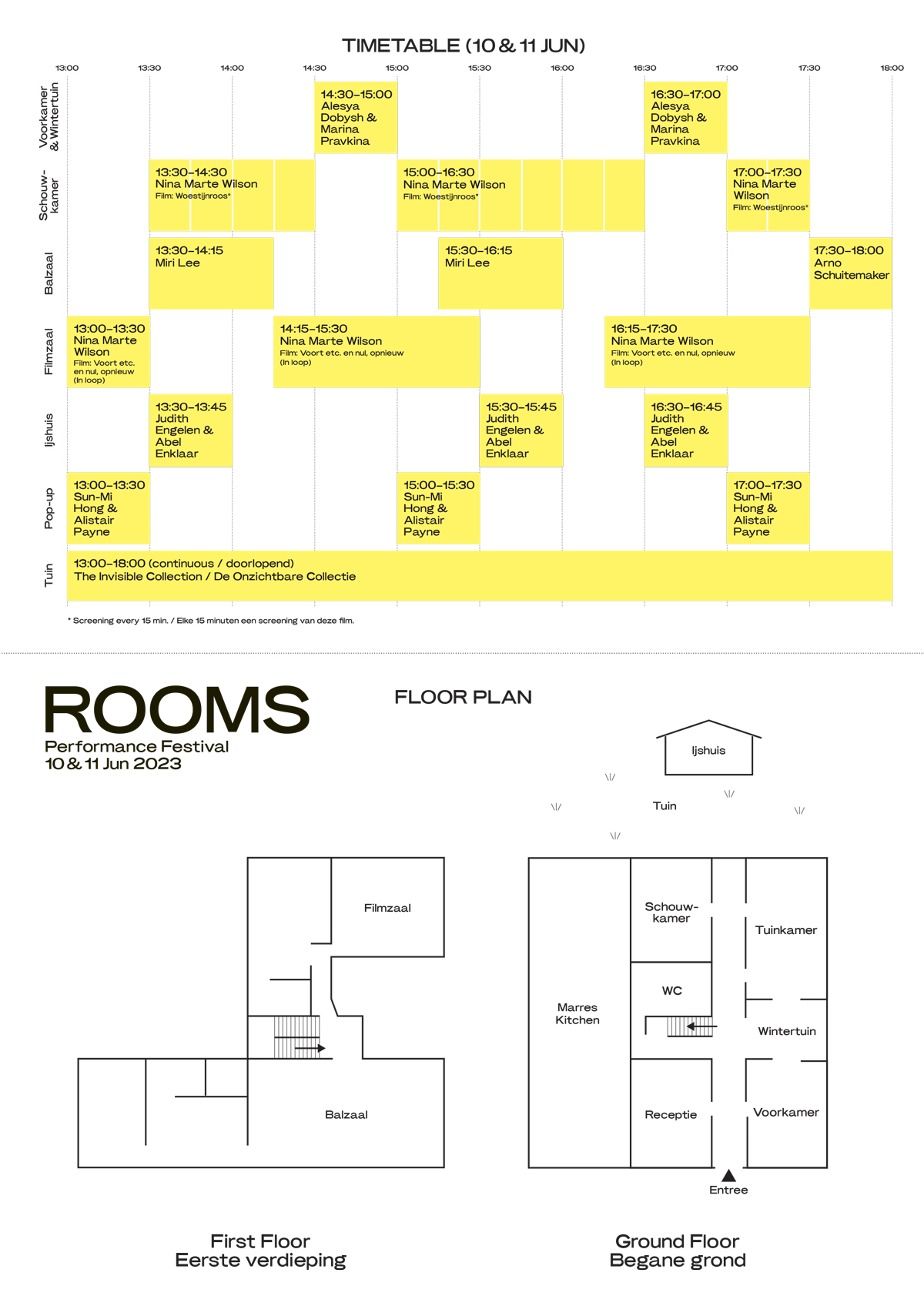 ROOMS 03
Please save the date for the third edition of ROOMS, scheduled for 27 and 28 January 2024, we hope to see you again then! Keep an eye on our website and social media.