In History's Footnote: on Love and Freedom 11 international artists from Afrika to Alaska unravel traumas of racial, gender, sexual, and cultural injustices.
This group exhibition by the South-African curator Khanyisile Mbongwa connects the stories of film makers, visual artists, singers and poets about decolonization, lost language, collective protest and forgotten history. A central theme in the exhibition is the quest for love and freedom to which history serves as a footnote.
'Without freedom, no love is possible,' says Mbongwa, 'and without love there is no freedom.' History's Footnote gives space to the forgotten stories and offers sight to the emancipation and awareness necessary for the creation of a better future.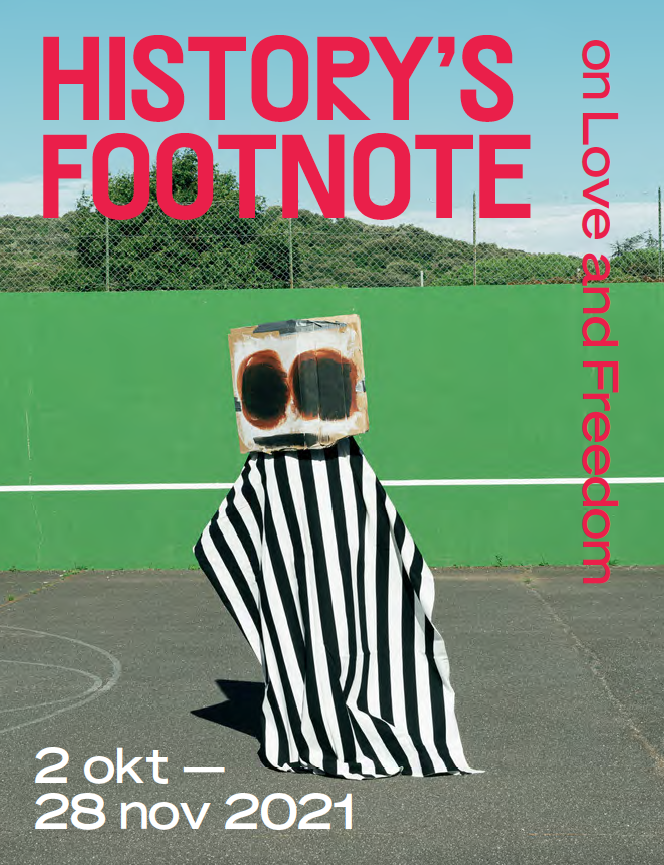 Artists
FELIPE CASTELBLANCO (Bogotá, Colombia 1985) is a multidisciplinary artist and researcher, working at the intersection of participatory, film, and media art. His work explores institutional forms, creates platforms for interepistemic dialogue, ventures out into new frontiers of publicness, and engages remote and unlikely audiences. Castelblanco holds an MFA from Carnegie Mellon University (USA) and is currently completing a practice-based PhD in Basel, exploring avenues for biocultural peace-building, and territorial and epistemic justice in the Colombian Pan-Amazon region. He has been the recipient of several international awards, including the Robert Rauschenberg Foundation Residency (US 2019) and The Starr Fellowship at the Royal Academy Schools in London (UK, 2015). Recent shows include the 2019 Quebec Biennial and Seasons of Media Arts 2020 at ZKM in Karlsruhe (Germany).
NICHOLAS GALANIN's (Sitka, Alaska, United States, 1979) work engages with contemporary culture from a perspective rooted in the land. His work departs from incisive observations and investigations into the intersections of culture and concept in form, image, and sound. Galanin's works embody critical thought as vessels of knowledge, culture, and technology — inherently political, generous, unflinching, and poetic.
LUNGISWA GQUNTA (Port Elizabeth, South Africa, 1990) is a visual artist working in performance, printmaking, sculpture, and installation. She deconstructs spatial modes of exclusion and oppression by addressing the access to and ownership of land, unravelling multisensory experiences that highlight persistent social imbalances — legacies of both patriarchal dominance and colonialism. She aims to disrupt this status quo with material references to guerrilla tactics and protest. Gqunta obtained her bachelor degree in fine Art at the Nelson Mandela Metropolitan University in 2012 and a master's degree at the Michaelis School of Fine Art in Cape Town in 2017. She has been in residence at the Rijksakademie van Beeldende Kunsten in Amsterdam (2019–2021) and participated in the Manifesta 12 (Palermo, Italy, 2018) and the 15th Istanbul Biennial (Turkey, 2017). She held solo exhibitions at, amongst others, ZOLLAMTMMK Museum of Modern Art (Frankfurt, 2021) and Apalazzo Gallery (Brescia, Italy, 2018) and was part of exhibitions at Palais de Tokyo (Paris, 2021) and Mercusol Bienal Brasil (2020).
NONCEDO GXEKWA (Ladysmith, South Africa, 1981) lives and works in Cape Town. Her practice engages with collaborative forms of photography, individuals, and nature. She completed her studies at CPUT (Cape Peninsula University of Technology) in 2010. She recently collaborated in the Moonsoon Project, a performative research project looking into decolonizing cultural practices emerging in South Africa. She participated in various group shows, such as Connecting Views at the National Museum of World Cultures (Leiden, NL, 2021), The SAME SAME Show at Gallery One11 (Cape Town, 2018) and Content at Quoin Rock Wine Estate (Cape Town, 2020).
HYMN_SELF aka SIYABONGA MHLELI MTHEMBU (South Africa, 1984) is a Johannesburg-based creative activist, performer and curator. He performs lead vocals as Hymn_ self in his band The Brother Moves On that, in its love for the esoteric and eccentric in what it is to be rhythmically South African, pays homage to South African jazz, rock, and funk. Mthembu is also the lead singer of Shabaka and the Ancestors, a South African super band led by UK-born saxophonist Shabaka Hutchings.
(Rio de Janeiro, Brazil, 1983) is a writer and visual artist. Words are the object of many of her artistic works. She adopted her name from her great-grandmother, who belonged to an indigenous pre-Columbian culture in the Amazon region. This Marajoara culture is revived as an ancestral memory in her body. Janaú is interested in different art languages such as installations, images, and printed texts, and also in sharing experiences through ritual actions. She seeks to elaborate individual and collective memory in Abya Yala* and reflects on possible cures for the colonial trauma. * Abya Yala is the name used by many Native American people to refer to the American continent.
EURIDICE ZAITUNA KALA (1987, Maputo, Mozambique) is a Mozambican artist based in Paris. She was trained as a photographer at the Market Photo Workshop, Johannesburg. She is the current laureate of the ADAGP (Association for the Development of the Graphic and Visual Arts) / Villa Vassilieff fellowship, has been awarded several residencies on the African continent and performed at venues such as The Centre Pompidou (Paris), Galerie Saint-Séverin (Paris), and the Infecting the City Festival (Cape Town, 2017). Her work was included in exhibitions such as the Stellenbosch Triennial (2020), Haus der Kulturen der Welt (Germany) and the 4th Triennial of Small-scale Sculpture in Fellbach (Germany, 2019).
ERIC MAGASSA (Gothenburg SE, 1972) is a multidisciplinary artist, combining mixed-media collage, painting, and photography. He explores issues of identity, its intermediary nature and its connection to memories and places. A recurring theme in his work is the mask, both as an object and as a boundary. Magassa studied at Central Saint Martins, London and The Art Students League of New York. Recent presentations include Passagen Konsthall (Linköping SE, 2020), Gibca (Gothenburg SE, 2019), Valongo Festival (Santos BR, 2019), Alingsa° s (Konsthall SE, 2019) and the Moderna Exhibition (Stockholm SE, 2018).
Angolan multimedia artist and elucidator NÁSTIO MOSQUITO is known for performances, videos, music, and poetry. His work shows an intense commitment to the openended potential of language. Easily misread as a kind of world weariness, it is the extraordinary expression of an urgent desire to engage with reality at all levels. Mosquito has performed at music festivals within the context of visual arts programs — Biennale of Bordeaux (2009), Tate Modern (2012), Berardo Collection (2013). He also has a lively online presence, including an app and an album Se Eu Fosse Angolano. Previous group exhibitions include Centre Pompidou (Brussels, 2021), Nest (The Hague, 2020) and Stellenbosch Triennale (2020).
GÉRALDINE TOBE's (Kinshasa, Congo, 1992) creative process shows a willingness to break down aesthetic, artistic, societal, religious, and political barriers through freedom and free will. She expresses this in a provocative and arrogant way to let prejudices, formats, and stereotypes give way to innovation. This artistic practice allows Tobe to overturn aesthetic, cultural and societal boundaries and challenge stereotypical considerations based on appearances. She invites her audience to see the world differently — a world in full change. Tobe graduated from the Académie des Beaux-Arts in Kinshasa. Recent presentations of her work include Institut Fran ais de Kinshasa (2018), Jinan International Biennial (China, 2020) and African Women Artists at Galerie ART-z (Paris, 2020).
KEMANG WA LEHULERE's (Cape Town, South Africa, 1984) work not only revels in narratives featuring everyday objects, but it also unravels the potential in ordinary objects to relay multiple layers of narratives that are embedded in them. Having grown up in the working-class flats of Gugulethu, 15 km outside Cape Town, Wa Lehulere understands that objects never have a singular value or utility; their function is consistently in flux. He therefore doesn't just attach abstract meanings to them but rather attempts to unearth, dig out, or investigate other narratives that are already inscribed in them. One can think about how porcelain dogs are not merely a commentary on black
Curator: Khanyisile Mbongwa
Khanyisile Mbongwa is a Cape Town based independent curator, award winning artist and sociologist. She works with public space in which interdisciplinary and performative practices unpack complexities such as the socio-political, economic, racial and gender-queer nuances of the everyday.
Mbongwa uses creativity to instigate spaces for emancipatory practices, joy and play. In the past, she has worked with Norval Foundation as Adjunct Curator for performative practices, Cape Town Carnival as curatorial and social development advisor and was the Chief Curator of the Stellenbosch Triennale 2020.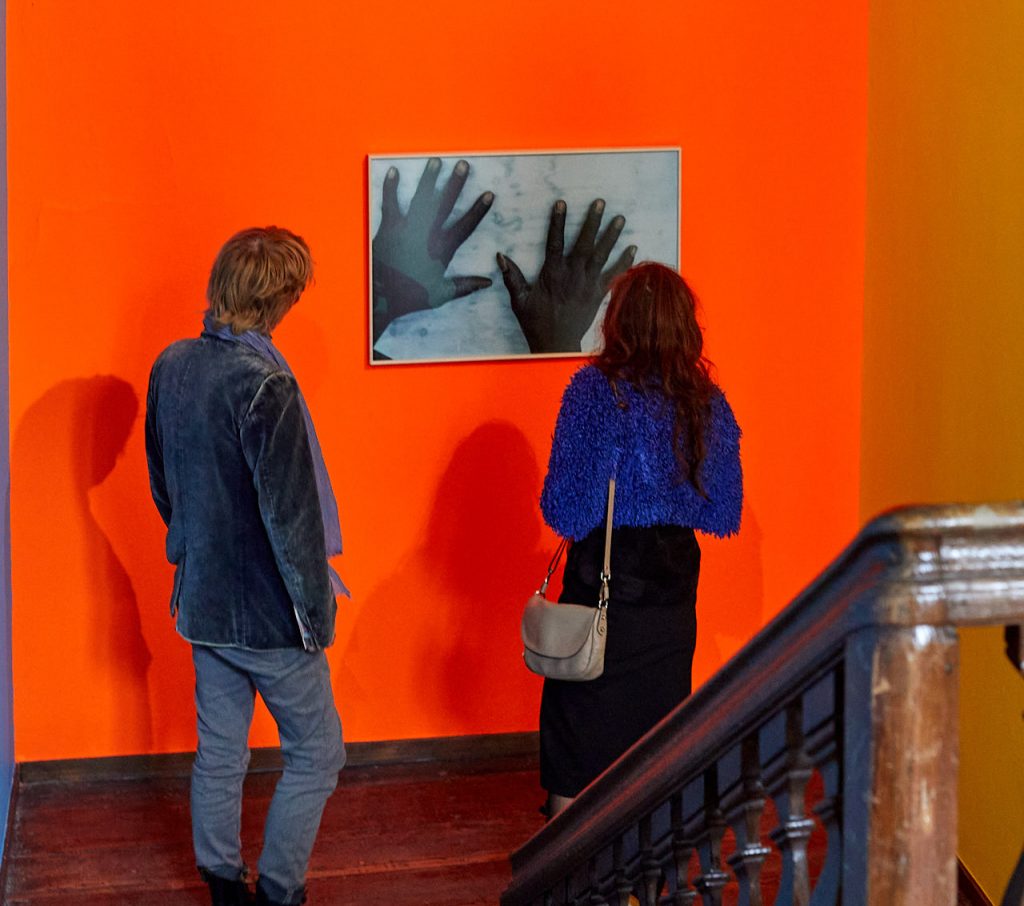 Press about History's Footnote