Date: February 24th
Time: 8 – 10 PM
With: Anna Harris and Peggy Olislaegers
Location: Kunstkwartier 6211, Misericordeplein, Maastricht
All of our cognitive abilities have a recognizable source: language, mathematics, music, schooling in a pedagogical rhythm of small incremental steps. But how do we train our senses? One can argue that we see colors by following conventions about what is blue, red or green. We develop our taste by practicing and talking about flavors in tasting sessions of wine or olive oil. Senses are like crafts in that you can learn to master them only by practicing. And yet we cannot quite put our finger on where and how we learn with our bodies. Or can we? This session starts with a physical warm-up to stimulate the senses. Peggy Olislaegers talks about methods for exploring artistic questions physically and ways in which dancers archive their physical experiences. Anna Harris' presentation deals with different resources we use to teach and learn sensory awareness in contemporary life, from cookbooks and wine tasting smelling kits to mindfulness workshops and the lessons that doctors learn to train their sensory skills of clinical examination.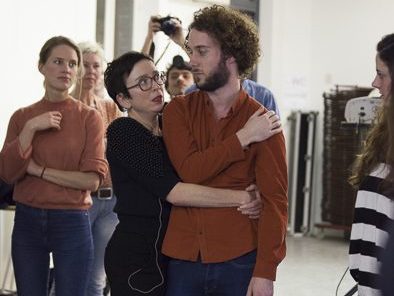 Peggy Olislaegers
Peggy Olislaegers (1966) was recently appointed Artistic Associate of Rambert, Britain's national dance company, in London. Formally trained at the Tilburg Academy of Dance, Peggy Olislaegers has acquired broad experience both as a creator and as a dramaturge in dance, theatre and music productions. She has staged three-minute operas (Yo-Opera Festival 2007), co-created Kamp Holland (Theatre Company Orkater 2008) and staged and directed the work of composer Harry de Wit (Red Sound Festival 2009). Olislaegers initiated the European project Act Your Age (2011-2014) and was one of the leading mentors of the European project Performing Gender (2013-2015). Between 2010 and 2016, she was director of the Dutch Dance Festival/Nederlandse Dansdagen.
Anna Harris
Anna Harris (1977) was first trained as a doctor, then an anthropologist, in Australia. She now works as a researcher, studying technological medical practices, especially concerning questions of the sensory, embodiment and learning. She has held research posts at Maastricht University, the University of Exeter and the University of Melbourne, and has been a visiting researcher at the University of Amsterdam, McGill University, RMIT, Brocher Foundation and the Max Planck Institute for the History of Science. Her work appears in academic journals, newspapers, her own and others' blogs and she has co-authored an upcoming book called CyberGenetics.