Date: October 4th
Time: 7 – 9 PM
With: Ana Tajadura-Jiménez and Paul Devens
Location: De Brandweer
Through our senses we form mental representations of our own body and the space and events around it. These mental representations have an impact on our emotional, social, and motor functioning. Ana Tajadura-Jiménez's research focuses on showing that these mental representations are not fixed. Her project The Hearing Body investigates how sensory feedback changes people's experiences of their body and the surrounding space. The project has shown that real-time alteration of walking sounds results in a changed perception of one's represented body size, and contributes positively to a person's walking behavior and emotional state. Sound artist Paul Devens is interested in ways in which sound conditions behave. He will offer an artistic interpretation of the subject with practical examples and sound experiments.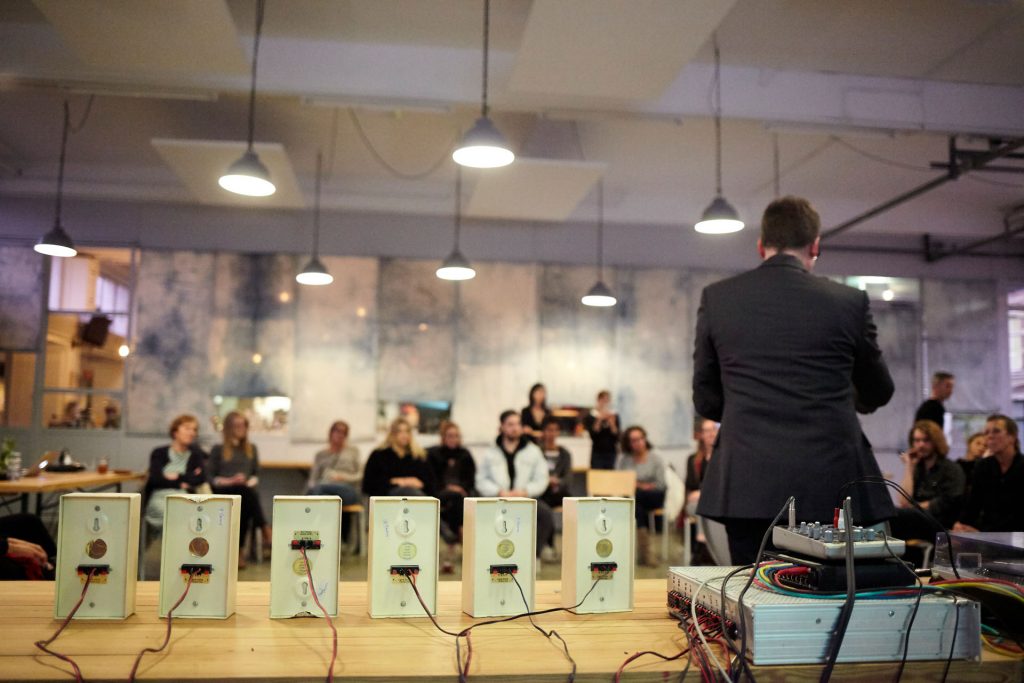 Ana Tajadura-Jiménez
Ana Tajadura-Jiménez (b. 1979) is a Ramón y Cajal research fellow at the Human Neuroscience Lab of the Universidad Loyola Andalucía (ULA) and an Honorary Research Associate at the Interaction Centre of the University College London (UCL). Tajadura-Jiménez has published extensively. Her work has been featured in the public media worldwide and presented at events in the London Science Museum, Wellcome Collection and the Being Human Festival. A highlight is the article on her project The Hearing Body that appeared in 2015 in the magazine New Scientist.
Paul Devens
Paul Devens (b.1965) studied at the Academy of Fine Arts and the Jan van Eyck Academy in Maastricht. Currently, he runs a research-based sound practice that links designed space to socio-historical backgrounds. His site-specific installations, architectonic interventions, music performances and CD- and vinyl albums address questions about value, preconception and codes in our civil society. His work has been installed, performed and screened in many places, including Diapason Gallery, New York (2011), Radio Art Festival, Tallinn (2011), Stimulating Synapse, EMAA, Nicosia (2015), Galerija Umjetnina, Split (2015), Hacking Habitat, Utrecht (2016), and bb15, Linz (2016).