Date:
23 September 2020
Time:
19:00 – 21:00
With:
Suze Milius and Maribel Ortega
Location:
to be confirmed
Language:
English
Costs:
€5 (regular), €2.50 (students)
Online ticket sale only, it is not possible to buy a ticket at the door at the night of the event
In March 2020, social distancing rudely and unannounced entered our 'new normal' and radically changed our way of interacting with each other. But in fact, this concept has been part of our codes of physical behavior for a long time. In this session you will explore what those codes entail and what they do: how near can we come to another body? Where are we allowed to touch? And how do we read the body language of others? We'll investigate the changing manners in our society with director Suze Milius, coach and mentor Maribel Ortega and a performer.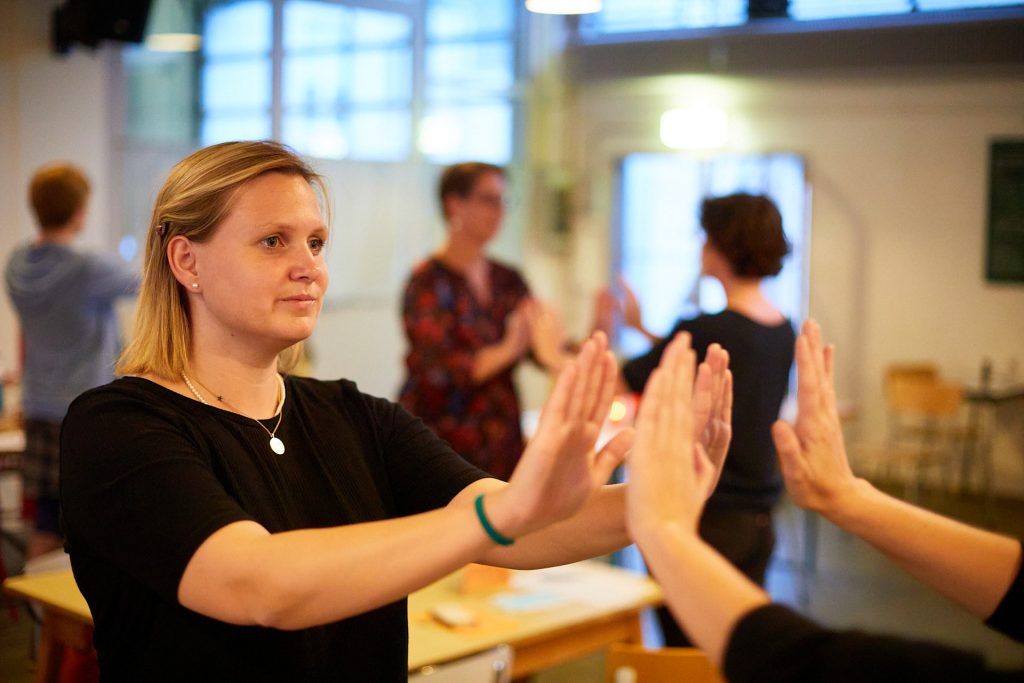 Maribel Ortega
Maribel Ortega is a professional coach, mentor, keynote speaker and confidence ambassador. Originally from the Dominican Republic, Maribel has lived in Germany for 18 years. She is fascinated about culture, leadership, body language, and psychology and is especially interested in emotional and cultural intelligence. She has a master's degree in philology – the study of language preserved in written sources – from the University of Erlangen, is a certified neuroleadership coach and a business cultural trainer. Ortega is currently pursuing the Executive Master of Business Administration (EMBA) program at Quantic School of Business and Technology.
Suze Milius
The plays by director Suze Milius are characterized by awkward behavior and uncomfortable encounters. With her love for absurd humor and stylized aesthetics, she puts seemingly mundane worlds under tension. She is currently working on a project based on fables about human and animal behavior.
Milius studied directing at the Drama Academy in Maastricht. Her graduation performance Collection (2012) was nominated for the Ton Lutz Prize (NL). In 2018 she won the director's prize for exceptional talent: the Erik Vos-prijs. With Stefan Jakiela, Milius founded House Crying Yellow Tears, an art house in Brussels. She made performances for de Brakke Grond, Desingel Antwerp, Kaaitheater Brussels, Festival Cement, Orkater, Toneelgroep Maastricht, Productiehuis Rotterdam and Het Zuidelijk Toneel.