Date:
7 April 2022
Time:
19:00 – 21:00
With:
Anna Nina Runa Essendrop
Location:
De Brandweerkantine
Capucijnenstraat 21, Maastricht
Language:
English
Fee:
€5 (regular), €2.50 (students)
Please note: this workshop will be recorded via photography and film
A coproduction with iii
Human Experience is a physical, immersive live action role play (LARP) about the sensations we get from movement, touch and sensory experience. The LARP is played by two groups. One group is called Ancient Consciousnesses. They are floating minds that have existed in our world forever and understand basic concepts (like the concept of a human or a flower), but they have never tried to be physically in contact with anything. For the duration of the play, they materialize into human bodies in order to carefully experience the nuances in the way humans move and sense and to try to understand what it is like to be human and experience through a body.
This is where the second group enters the story. This group consists of the audience that is part of the fiction of the LARP. They are there to aid the Ancient Consciousnesses in their exploration by showing movements or describing sensations to them. The purpose of this LARP is to create a sensory awareness of what it is to experience everything anew.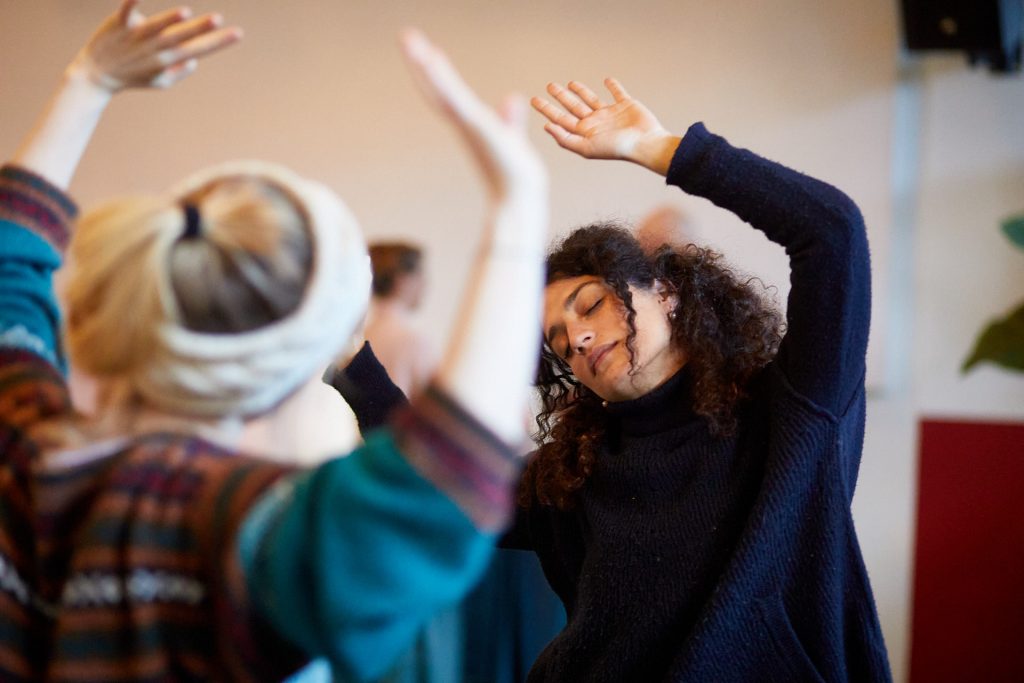 Nina Runa Essendrop
Nina Runa Essendrop is a Danish artist and designer of LARPs with a focus on movement, sensory experiences and the meaning of physical action. She is an active player in the Nordic LARP community. She has designed and produced LARPS, freeform games, workshops, performances and interactive theatre at, among others, Transmediale 2016 (Berlin, Germany), Momentum: The 8th Nordic Biennial of Contemporary Art (Moss, Norway), Athens Biennale 2018 (Athens, Greece), The Flea Theatre (New York, US), Dome of Visions (Århus, Denmark) and Ormston House (Limerick, Ireland).