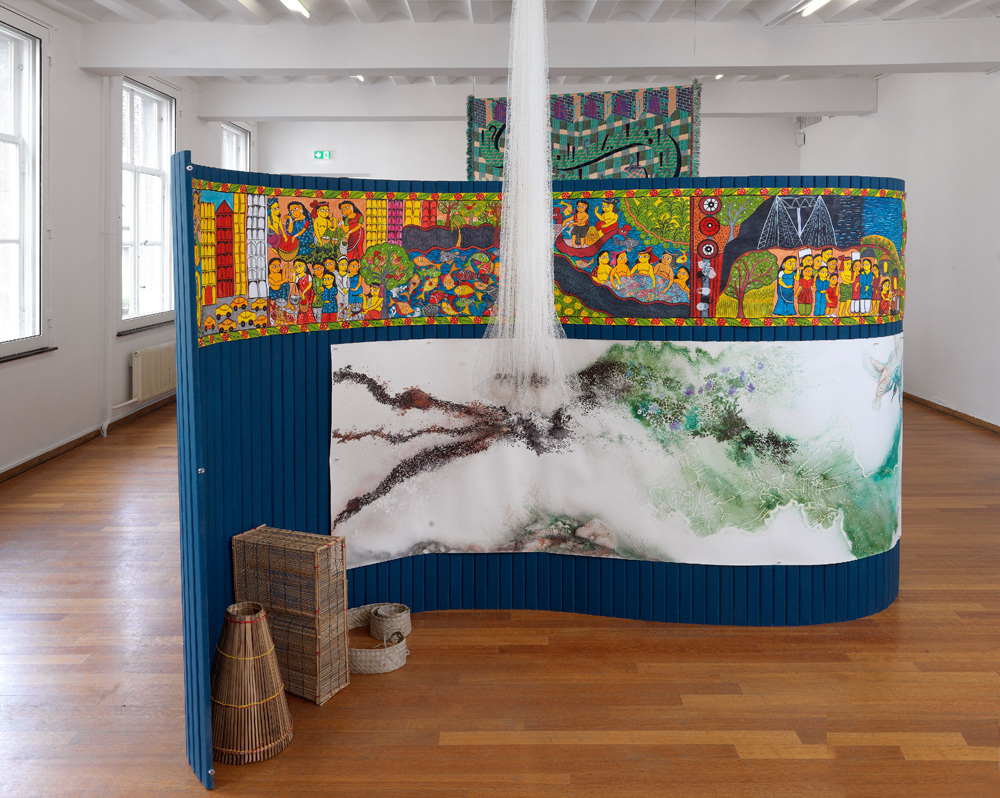 The exhibition Kolkata: Run in the Alley offered a spectacular artistic period view of the metropolis of Kolkata (formerly Calcutta) in India.
The project grew out of the art in residence project CARF, which in recent years brought a series of artists living in the Netherlands to Kolkata, to explore the city under the guidance of local artists. During their working periods, the local and visiting artists became friends. At Marres, they created a joint exhibition in which their techniques, disciplines and perspectives melded into an intensely layered image of the metropolis. Cast bronze sculptures, cardboard furniture, harmonica books, posters, carpets and drawings were brought together in a scenography of bamboo scaffolding. Also on display were works by classical masters Sarbari Roy Choudhury, Ganesh Haloi, Somnath Hore and historical pieces by forgotten fashion designer Riten Mozumdar. None of the Indian artists' work
had been seen in the Netherlands before.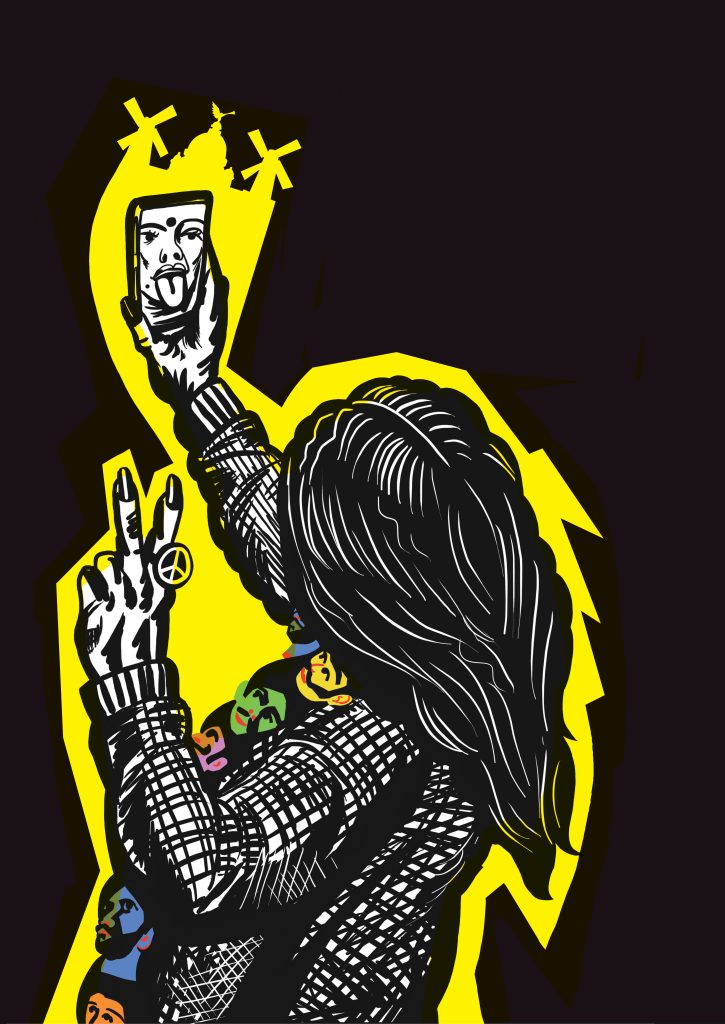 Bios of participating artists & curators
Nilanjan Bhattacharya (Kolkata, India, 1968) is an independent Indian filmmaker, artist, and writer. He has produced and directed several acclaimed films and diverse media art works. Bhattacharya has a keen interest in biodiversity, food cultures, and indigenous knowledge systems in India and he has produced many films and art works around these themes. This filmmaker received the President's Award of India twice for his documentaries, Under This Sun (2005), and Johar: Welcome to our World (2010). Other films include Bengalis in the World of Fish (2001), and Rain in the Mirror (2012).
Tim Breukers (Breda, the Netherlands, 1985) studied at the Rijksakademie van Beeldende Kunsten in Amsterdam. He followed residency programs at art centers in the Netherlands — International Artist-in- Residence and Center of Excellence for Ceramics (EKWC), and Hotel Maria Kapel — as well as at international art centers: Calcutta Art and Research Foundation, MMCA Seoul, and Bus Projects Melbourne. He has participated in various group exhibitions, including at the De Pont museum in Tilburg, W139 in Amsterdam, NEST in The Hague, and at the Korean Changwon Sculpture Biennale. His work can be found in collections at the Dutch Ministry of Foreign Affairs, Centraal Museum Utrecht and the Design Museum Den Bosch.
Saumik Chakraborty (Kolkata, India, 1975) is an interdisciplinary art practitioner from Kolkata. He has worked as an artistic director and scenographer in more than 150 theater productions and has created a great number of critically acclaimed designs for major theater productions of Kolkata. In his designs, his focus is against the power elite and for the suppressed minorities, who are constantly forced to move and can barely function at a subsistence level. His first solo exhibition was Of Lower Heavens, Vaporous Scars in A.M (Art Multi-disciplines) Studio, Kolkata, 2018. Group shows he participated in include Dark Side of the Moon in Gallery 1000A, New Delhi, 2022, Strides at Stake, A.M (Art Multi-disciplines) Studio, Kolkata, 2020, and Human Ecology & Art, Chattagram, Bangladesh, 2017. Chakraborty was a collaborator and co-participant for the show Moder Kono Desh Nai, Moder Kono Disha Nai at Forum Schlossplatz, Switzerland, 2014. He also participated in site-specific projects including Exploring the Making of Myths, in Sundarban, West Bengal, 2012.
Arunima Choudhury went to school at Santiniketan in the late seventies, where she encountered the concrete sculptures by Ramkinkar Baij, the epic mural titled Medieval Saints by Benode Behari Mukherjee at Hindi Bhavana, many original works by Rabindranath Tagore, and Nandalal Bose at Viswa Bharati's museum collection. Under the guidance of teacher K. G. Subramanyan of the Kala Bhavan at Shantiniketan, she explored new mediums while removing barriers between art and craft as well as form and content. Committed to an ethic of eco sensitivity and self sufficiency, Choudhury makes her drawings with vegetable pigments on acid free handmade paper and cotton fabric. Nature and women are her favorite themes
Gautam Choudhury's figures and faces are made up of marks, scratches, lines, and rubbings followed by the shadows of the past, present, and future. At the same time, the specter of erasure and continuous defacement looms large. Touched deeply by the history of life as the conflict zone, Choudhury's works are shaped by the continuum of time and refuse any selective representation. In this exhibition, his paintings and drawings speak for themselves in a breathtaking direct and naked way. Eschewing narrative tropes, issues, and concepts, they focus on a single human form.
Sarbari Roy Choudhury (Ulpur, East Bengal, India, 1933 – Kolkata, India, 2012) attended the Government College of Art and Craft, Kolkata, the University of Baroda and the Accademia de Belle Arti di Firenze, where he came into contact with Alberto Giacometti and Henry Moore. Combining influences from Ramkinkar Baij and Prodosh das gupta, with their counterparts from Western modern art, most of his work consist of cast bronze sculpture. Highly abstracted and profoundly inspired by Hindustani classical music, the human form often finds a dream-like quality in his work. Some describe it as objectified sensibility.
Bonno van Doorn strives to create images that are beyond accepted classification to counter the world of logic and efficiency. He weaves these images into personal col lections of form, color and visual associations, which he views as proposals for a taxonomy of a temporary order. In this environ ment everything speaks for something else. The shrine piles up copies of reproductions the artist found when wandering the streets of the city in a search for the order of things. Expressing his sense of wonder and estrange ment, it is an ode to the streets and people of the city.
Sanchayan Ghosh In the past decades, Ghosh has developed a site-specific art practice that invites community dialogues through workshops. The work form is inspired by the performative activities initiated by Rabindranath Tagore in Santiniketan and the workshop games of Badal Sircar (a theater activist in Kolkata). In this room, Ghosh presents the practices of women roof makers from Bengal. The work is part of a larger project in which the artist makes memoirs of Kolkata dwellers. This memoir is devoted to the songs that were sung by the Bauri community of female Bengali artisans while breaking the bricks to make handmade roofs. The roofs belong to early architectural traditions that were passed on from an Islamic tradition to the European houses built in Kolkata until the 1960's. Today this type of roof making is a lost tradition only remembered by the few living members of the last generation of roof makers, some of whom reside in Birbhum near Santiniketan.
Nobina Gupta's work deals with the relationships between sociospatial realities, climate emergencies, and behavioral changes. She initiated and curated the Disappearing Dialogues Collectives that strives — with practitioners, youth from communities, and organizations — toward conservation and sustainability of the East Kolkata Wetlands (EKW). Located at the periphery of Kolkata, the wetlands boast of a unique natural waste management system. At the core of this system lies a set of sustainable practices involving pisciculture and agriculture whose affordable fresh produce and water are essential to the city's economy and welfare. Patachitra — The story of East Kolkata Wetlands is a work created in collaboration with the folk artist Mamoni Chitrakar. Through a traditional format of storytelling accompanied by a folk song, this work highlights the unique elements of the EKW and the contributions of the wetland community. Regenerative Cycles: The Story of Wetland Ecology highlights the various invisible circles of symbiosis and sustainability underpinning the various elements of this thriving ecosystem.
Ganesh Haloi (Jamalpur, East Bengal, India, 1936) after attending the Government College of Art and Craft in Kolkata, Haloi joined the Archaeological Survey of India, where he was commissioned to document the world-renowned Ajanta cave paintings. He returned to Kolkata in 1964 to become a lecturer at the Art College, Kolkata. Like Hore and Roy Choudhury, Haloi fled from East Bengal to Kolkata, after the partition of Bengal created East Pakistan, later Bangladesh. His work often focused on his place of birth, which assumed mythical proportions perhaps in part because of his regret to be unable to return. His stylized and highly abstracted works capture the essence of subjective recollection.
Somnath Hore (Chittagong, East Bengal, India, 1921 – Santiniketan, India, 2006) studied at Government Art college, Kolkata and Santiniketan, where he later became head of the Graphics and Printmaking department. A printmaker by heart, Hore gained notoriety for his depiction of major historical events of twentieth century Bengal, starting with the documentation of the Bengal Famine in 1943 that claimed the lives of between 2 million and 4 million people. From the 1970s onwards, Hore integrated sculpture in his practice. Employing diverse artistic media, his work focused throughout his career on the scope and depth of human suffering and celebration.
Henri Jacobs's visual work is characterized by a deep fascination with flatness and surface. Often, he uses the weaving technique of paper or linen in which old and new work are recycled into a surface that is both image and pattern. During a two-month residency in Kolkata in 2014, he photographed the battered Kolkata pavement patterns. The patterns from Kolkata evolved during a porcelain residency in Arita (2016, Japan) and ceramics residency in the European Ceramic Work Centre (EKWC) Oisterwijk (2018, the Netherlands). In Marres, the geometric concrete pavers from Kolkata are translated into ceramics and imitate the colliding patterns from the city.
Manuel Klappe (Amsterdam, the Netherlands, 1982) studied Art History, Philosophy, and Economics at the University of Amsterdam, and received a Masters of Arts in 2011. After organizing exhibitions Beeld Hal Werk (2010) and Present Forever (2012) in the Kromhouthal and an abandoned parking garage in Amsterdam, he co-founded the artists initiative KAFANA. In 2014, he was the first participant of the CARF residency program, which reignited two earlier interests: first the history and workings of historical encounters between East and West with an emphasis on its artistic exponents in regional modernisms — and, second, the collecting of the same.
Maartje Korstanje's artistic practice is driven by a strong awareness of the ephemeral nature of life. Her sculptures often show the transition between growth and decay, in the natural world as well as in the human made world. Usually, they are crude yet elegant shapes made out of simple materials including cardboard and glue. More recently she also started adding machine embroidery in her sculptural prac tice. For the exhibition in Marres, she creates sculptural furniture based on the banyan trees she observed in Kolkata.
Sachi Miyachi sculpts the here-andnow. She is inspired by the oppositions between nature, humans and technology, and the ways these play out in public space. She researches and artistically translates our collective efforts to handle this space: measuring, comparing, scaling, representing, and designing and altering bodies, architectural spaces, and landscape. Miyachi's work offers a response to the world she finds herself consumed by. At the same time, it tracks her ambition to a ritualistic and obsessive crafting of her mental archive. Practising Structures: India offers a series of drawings she made during her residency in Kolkata as a daily exercise in observing Kantha embroidery and the ever-changing street scenery in Kolkata.
Riten Mozumdar (Kasur, Punjab, India, 1927 – Santiniketan, West Bengal, India, 2006) was one of the most significant artist-designers of the Indian modernist design renaissance. In the decades following India's struggle for independence (the 1940s) and responding to the socioeconomic and cultural upheaval sweeping through the country, Mozumdar approached design as a complex nation-building idiom focusing on modernization and revivalism. This period witnessed exploratory arcs between India and the world in politics, art, culture, design, engineering, and architecture. Between the 1950s and 1980s, his celebrated and influential praxis heralded a new brand of aesthetics within India. Mozumdar's work displays a diversity of range and materials. He worked with metal crafts, namdahs (felted wool rugs), wood carvings, hand-painted, block-printed, or silk-screened textiles (furnishings, dresses, sarees, scarves) wood blocks, and furniture. He also designed women's fashion apparel that was exported to several countries, including Australia and the Middle East. In 1955–56, he worked as a textile designer with the Finnish design company Marimekko and made numerous original designs for their collection.
Benode Behari Mukherjee(Behala, India, 1904–1980) studied under Nandalal Bose at Tagore's Kala Bhavan in Santiniketan. In 1925, he became a professor at the same school, where he taught many prominent Indian artists including K.G. Subramanyan, Somnath Hore, Riten Mazumdar and Satyajit Ray. In 1947, the year of India's independence, he worked on his now famous murals at Hindi Bhavan in Santiniketan, generally viewed as one of the starting points of India's post-independence modernism. Combining influences from the West as well as further East, Mukherjee created an individual style, often using silk as carrier, following the long ink wash traditions of China and Japan. Having had trouble with his sight from birth, Mukherjee turned completely blind in 1957 and continued his practice by way of collages.
Sumantra Mukherjee develops imagery for the public domain that reflects on contemporary Indian society. Following a tradition of agitprop posters and protest flyers, the colorful, and whimsical images speak out for local struggles and changes and draw out a dialogue with audiences not primarily interested in artistic practice. Overlapping and cohabiting ideas and techniques in Indian folk culture with the contemporary, Mukherjee's murals show clay figurative idols of gods and demons washed away of their glory, showing hay tied to sticks, abstract structures with their human details withered away. Mukherjee designed the campaign image for this exhibition that shows Kali, goddess of destruction, with a bead necklace of souls, holding up a selfie. The goddess represents the darkness from which everything is created. Considered a beautiful feminine energy, in Sanskrit Her name means 'force of time.'
Ruchama Noorda In performance, sculpture and installation works, Noorda recycles elements of the reform movement that both engage and challenge contemporary communitarian and counter cultural practices and beliefs. By highlighting the mysti cal and magical elements within the Reform tradition along with other undigested and 'irrational' materials, her works perform a séance function: excavating repressed and buried histories in ways that set out to complicate hard distinctions between progres sive and conservative social and artistic movements. During her Kolkata residence, she explored the theosophic roots of the reform movement. In her Newspaper Works, she uses clay, pigment and dirt that are ritually used for cleansing to frame profane and spiritual ideas. The brass dishes and antennae serve to amplify and broadcast esoteric ideas.
Srikanta Paul Trained as a printmaker, Paul uses lithography, etching, viscosity, and serigraphy. Currently, he builds on a rich Kolkatan popular tradition of woodcut printing. The still vibrant printers' Chitpur area still shows traces of an earlier period in which Kolkata produced the indigenously styled advertisements, books, calendars, and posters rich in mythical characters and icons that were to be found in every household. To Paul, these icons and mythology offer a language to speak about contemporary society.
Ganesh Pyne (Kolkata, India, 1937–2013) began his artistic career as a book illustrator and animator of cartoons at the Madar Mullick film studio, before attending the Government College of Art & Craft in Kolkata. Raised in the old and densely populated north part of Kolkata, he had an intimate knowledge of its streets and byways that were sometimes too narrow for sunlight to come in. Unable to afford colors, his early work consists mainly of black and white, pen and ink drawings. This sober palette, later enriched by hues of brown, red, and blue in tempera, would stay with him throughout his career. With the poetic surrealism of crumbling facades and old folktales, Pyne created a visual language uniquely his own. It is in high demand today. The title for this exhibition is taken from the work shown here.
Piyali Sadhukhan (Kolkata, India, 1979) graduated from Rabindra Bharati University in 2004 and Kala Bhavana, Visva Bharati University. Her engagement with layers of memory, knowledge and meaning takes her to everyday found objects and economical raw materials. Her new oeuvre turns to the individual, as she moves toward the intangible, weathered imaginations of form. Her chief shows are Moder Kono Desh Nai, Moder Kono Disha Nai at Forum Schlossplatz, Zwitserland (2015), A Room of Her Own at Gandhara art gallery, Kolkata (2015) and Urban narratives at Espace Louis Vuitton, Tokyo (2012). She made headlines with her huge Kaliya installation on the courtyard of the Indian museum, Kolkata (2014). In 2021, she had solo shows in the gallery of Akar Prakar, was participant in The Artissima Art Fair and in Classical Radical, a show organized in fondazione Torino Musei, Turin, Italy. Sadhukhan also works as an artistic director and scenographer. Together with Saumik Chakraborty she is a sought-after builder of temporary pavilions (pandals) for the yearly Hindu festival Durga Puja. The pandals are constructed from bamboo scaffolding and built to house the goddess Durga.
Ushmita Sahu (Kolkata, West Bengal, India, 1973) is the Director and Head Curator of Emami Art, Kolkata. With a background in fine arts from Kala Bhavana, Visva Bharati University, Santiniketan, Sahu has worked for several years as an artist, curator, art writer and scholar and has numerous national and international projects to her credit. As a scholar, she is a leading authority on the practice of the modernist artist-designer Riten Mozumdar. She has curated IMPRINT: Riten Mozumdar, a compact survey retrospective about the designer at Emami Art, Kolkata, in 2022 and Chatterjee and Lal, Mumbai, in 2020. A recipient of the India Foundation for the Arts (IFA) research grant for her research on Mozumdar, she has authored several pieces on the designer, which includes a monograph in Bengali. Sahu is currently working towards a publication on Mozumdar and Indian design history.
Amritah Sen's work focuses on personal narratives that create alternative versions to the official history. Fear Books were a part of an almost five-year-long quest for stories that cross different social, mental, and geographical boundaries. It deals with one of the most basic emotions of life: 'fear.' Listening to the stories of many people in India's neighboring states, Sen's intention was to discover if this negative emotion also triggers positive traits in us including bonding and connecting to the past.
Sarbajit SenThe present work Rains is taken from Ramblings, an autobiographical graphic novel that tries to map an entire Bengali middle-class mindscape through a series of significant social political junctures in West Bengal. The background is built on memories and lived experiences, which include romanticizing the USSR model of socialism in the post-independence days to getting enmeshed in the trappings of power at the cost of many compromises. This includes procreating a basically complacent middle-class gentry as a corpulent, though corrosive, humongous body of voters. The story takes us back to apparently insignificant personal accounts of the people the artist lived with — accounts of love and treachery, greed and violence, defeatism and crudity. Its only disclaimer is that not a single character here is fictitious. Some of them are even still alive.
Paula Sengupta's work addresses gender binaries, enforced migration, homelessness, heritage and environment, and a concern for the conservation of societies, communities, and ecologies. Hereby she uses methods and materials applied in feminist thought. Reconstructed from a story narrated by two Tibetan women in exile in India, The Monkey & the Dog throws light upon Sinicization of Tibet. It tells of how the small Himalayan trading village of Toe Yancho Tanga was visited by two soldiers in blue suits, who brought with them a caged monkey and a dog. The two animals were made to plow a field for the amusement of the villagers, who soon grew wary, suspecting it to be a bad omen. Sure enough, the blue soldiers soon came in hordes, changing life in the idyllic village forever. Using the mediums of etching and serigraphy, the scroll derives from the traditional thangkas of Tibet, some of which are linear paintings in gold on black backgrounds.
Praneet Soi (Kolkata, India, 1971) moved to the Netherlands in 2002 to attend the Rijksakademie van Beeldende Kunsten. He currently divides his time between Amsterdam and Kolkata. This oscillatory movement impacts his practice. Soi identifies over time, patterns that emerge from an investigation of his extended social and economic landscape. Recent exhibitions include Berlin Biennale 2022, Positions 6: Bodywork at the VanAbbe Museum, Eindhoven, 2020-21, Anamorphosis: Notes from Palestine, Winter in the Kashmir Valley at Mosaic Rooms, London, 2019 and Third Factory: From Kashmir to Lisbon via Caldas at the Gulbenkian Museum, 2018. In 2011 Soi was of of 4 artists representing India within the Indian Pavilion at the 54th Venice Biennale.
Arthur Stokvis Menacing neon camouflage made with soot flares forms a backdrop of doom and gloom to an eclectic collection of images: oak leaves and scorpions, carnival emblems and countryside graffiti, hammers and sickles, lotus flowers and phantoms. In Arthur Stokvis's most recent paintings, rattle snakes and other ghostly figures come to the fore. They are pasted or hung, drawn and exorcised, captured in the layers of the painting. Innocent at first glance, these signs represent future catastrophes, poison clouds from a post apocalyptic fever dream. Reminiscent of the alleys in Kolkata, they add layer upon layer, from bamboo scaffolding to neon brush strokes, to a mud floor creeping from the floor up the walls.
Koen Taselaar makes skillful drawings that he translates into other techniques, for instance colorful ceramics or jacquard woven tapestries. In search of ways to process his diverse output, he draws puns, makes record sleeves (for imaginary albums), psychedelic paintings, publications, and large-scale drawings that function as flat exhibition spaces. The room dividers and tapestry shown here are produced by the same technique of weft weaving, the former with wood and wire, the latter with thread. The dividers function as movable exhibition walls for the works of the other participants in the show. The tapestry takes its inspiration from modernist Bauhaus as well as the traditional Bengali (Ikat) weaving. It is titled The Great March of Interpunction and offers a fictional narrative about the origin of interpunction.
About the interview series
Here, you will find a series of interviews with the curators and artists of the exhibition Kolkata: Run in the Alley. These interviews were conducted by Lipika Bansal, who spoke to the artists about their artistic vision, their artistic process, as well as their experience and stories of working in interdisciplinary teams during the CARF residency in Kolkata.
About the author
Lipika Bansal is founder of Textiel Factorij. She is an artistic researcher and social designer. With her work she investigates art and craft cultures of India and the Netherlands, its heritage, origin and local significance. Lipika's practice is based on theory, oral traditions, and fieldwork. She uses co-creation and artistic research methodologies, such as (digital) storytelling – and writing with a focus on design for empowerment and change. Lipika's work is cross-disciplinary by nature: it involves experts from all disciplines, ranging from artists, designers, craftspeople, makers, starters, amateurs, biologists, scientists. Their expertise represents a way of looking at the world, which enriches the work, based on local knowledge, local materials and reciprocity.
Kolkata: Run in the Alley is made possible by Mondriaan Fonds.