Under the influence of the Covid-19 pandemic, the notion of home has been completely disrupted: the office, the studio, the shops, the museum, the restaurants and the bars invited themselves inside our houses, either symbolically or virtually.
Home is no longer solely the attractive physical and mental space that it used to be; it has also become a space for endless waiting.
During Intimate Geographies two protagonists occupied Marres. This artist couple made sporadic appearances in the homely environment established within the art centre and could have been mistaken for visitors. The awkwardness of their actions and their behavior made their presence more salient. You might have caught them having lunch in the dining room, making phone calls, napping or working in their studios.
The exhibition presented different experiences and environments, including a landscaped garden full of plants that the couple had in their former house in Beirut, a living room where the two are having a mundane discussion on a couch overlooking a curiously undulating carpet, or a dining room where they had lunch surrounded with embroidered curtains from another time-space. As a visitor, you infiltrated their intimate and professional lives, little by little.
Charbel-Joseph H. Boutros and Stéphanie Saadé's duo exhibition Intimate Geographies comprehended ever-rising parameters: it reflected on the complex agency of exhibition making, as well as the entanglement of the different elements that allow artworks and exhibitions to unfurl within a precarious and fragile art world. Lebanese artist Roy Samaha was invited by Saadé and Boutros to intervene in their exhibition Intimate Geographies with two of his video works.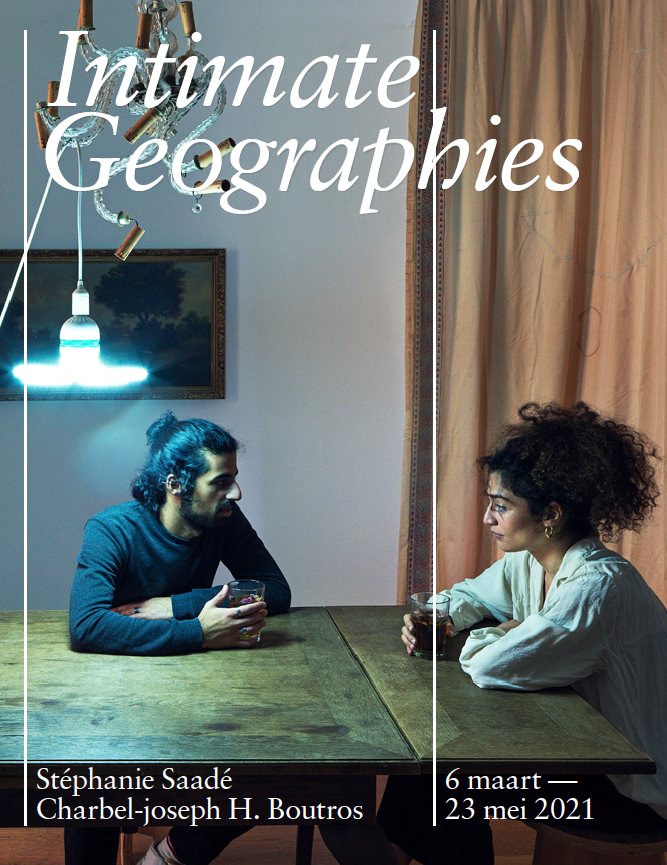 Artists
Charbel-joseph H. Boutros (Lebanon, 1981) lives and works between Beirut and Paris. In his work invisibility is charged with intimate, geographical and historical layers: finding poetic lines that extend beyond the realm of existing speculations and realities. Being born amidst the Lebanese conflict, his work is not engaged in an explicit political and historical reflection, but is more accurately haunted by the said political and historical reflection.
Boutros was a resident at the Pavillon, Palais de Tokyo and a researcher at the Jan van Eyck Academy. He had a solo exhibition at S.M.A.K. Museum (Ghent), Palais de Tokyo (Paris) and Beirut Art Center. His work was included in exhibitions at venues such as the 12th International Istanbul Biennial, Punta Della Dogana (Venice), Centre Pompidou (Metz) and Home Works 8 (Beirut).
Stéphanie Saadé (Lebanon, 1983) lives between Beirut, Paris and Amsterdam. Her work develops a language of suggestion, playing with poetics and metaphor. She shares clues, signs, imageless and occasionally silent trails, which interact like the words of a single sentence. It is for the viewer to decipher them, as would an archaeologist faced with traces, fossils, and fragments. This enigmatic quality often stems from the artist's own experience. In her oeuvre, personal experience is invoked exclusively as a universal subject.
Saadé was an artist in residence at Jan van Eyck Academy and the Cité Internationale des Arts. She had solo exhibitions in Museum Van Loon, Parc Saint Léger and Maison Salvan. Her work was included in exhibitions at venues such as the 13th Sharjah Biennial (United Arab Emirates), Punta della Dogana (Venice), MOCA (Toronto).
Lebanese artist Roy Samaha was invited by Saadé and Boutros to intervene in their exhibition Intimate Geographies. Two of his video works are continuously screened in the projection room. Samaha explores the boundaries of filmic language, perception of reality and the memory of personal objects.
Elements
This exhibition is part of the ELEMENTS partnership in which contemporary art and cultural institutions in Dutch Limburg, Belgian Limburg and Liège program around an 'element' associated with the region. For more information go to elements2021.eu.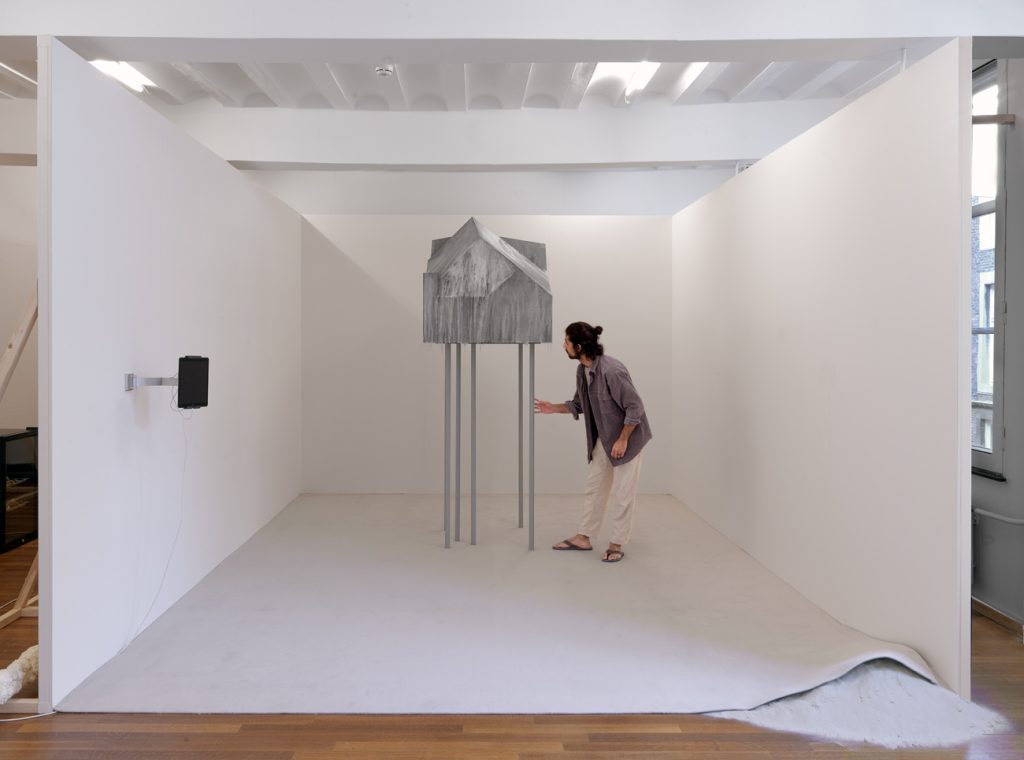 Press about Intimate Geographies